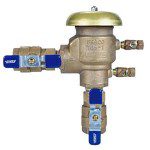 Why do you need an irrigation backflow preventer?  Consider the following.
The water used for irrigation at your home or farm becomes a contaminant once used. This is because it is in contact with fertilizers, pesticides and yes, animal waste.  Irrigation systems have some protective devices in place to prevent irrigation water from entering your drinking supply, but those devices are not adequate in stopping irrigation backflow should there be a sudden drop in water pressure in your pipes.
Thus, the need for an irrigation backflow preventer.