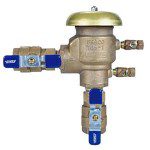 The FEBCO 765 ¾ is a pressure vacuum breaker used to protect against the hazardous condition known as backflow, or back-siphonage.  It consists of an all-bronze body for durability, one check valve and an air-opening port, and all serviceable parts easily accessible for repair should repair be needed.
FEBCO products are praised throughout the industry for their strength and their easy-to-install features.  They are an industry standard  with industrial plants, cooling towers, laboratories, laundries, swimming pools and lawn sprinkler systems.
The next time you need backflow testing, call the pros at City Backflow Testing, who use and strongly recommend the FEBCO 765 series of backflow preventers.