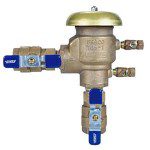 A back flow preventer, otherwise known as a backflow preventer device, is used to protect the city water supply from contamination caused by a situation called backflow.
To understand how a back flow preventer works, one must first understand the nature of backflow.  Water reaches your home by the use of water pressure. The pressure is applied by the city from the main water supply source, and as long as that pressure remains constant, water flows into your home and water leaves your home by way of the sewer system.  Ninety-nine days out of one-hundred, that is exactly how the system works.
However, it's that other one day that can be troublesome.  When a water main bursts, or pipes freeze, or there is an unusual demand on the water system (like opening several fire hydrants at the same time) the water pressure can decrease.  This decrease in water pressure may, in fact, cause the water to back flow from the home/lawn back to the city potable water supply.  Imagine the number of homes on a water system, all spewing contaminated water from laundry soaps and pesticides back into the central water system.
It would be a mess!
To prevent this from happening, and to ensure that a water system is uncompromised, devices known as back flow preventers are used.  They detect a sudden drop in water pressure and close off the water supply should the water begin to reverse direction….and that means good, safe water for all concerned.
Federal law requires that backflow preventers be used and be regularly inspected by highly skilled, trained, licensed and certified backflow testing companies.  In most state, each city requires separate certification for that particular city, so backflow testing companies are heavily regulated to make sure proper standards are met.  From Weatherford to Fort Worth, your water system is protected by these regulations.
When it comes time to have your back flow preventer inspected, call on the pros at City Backflow Testing. They  offer affordable backflow testing but more than that, they offer peace of mind.  Nobody needs to worry about the water they drink and bathe in, not in the year 2016.  City Backflow Testing will inspect your system, repair your system using on the finest backflow devices, and will install a new system if needed, and when the work is done, you can move forward knowing that your water system is working exactly the way it's supposed to work.