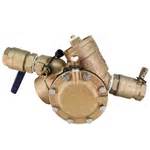 The Wilkins RPZ is designed for installation on potable water supply lines to prevent against the backflow of polluted water from a home or business back into the potable water supply.  This backflow preventer is supplied with a full port all valve and, for indoor installation, an air gap adapter.
The housing is made of reinforced nylon, FDA approved, and has stainless steel fasteners, stainless steel springs, and cast bronze ball valves.
Check with the pros at City Backflow Testing for all the information on the Wilkins RPZ testing, and always hire a certified and licensed backflow inspector the next time your backflow unit needs maintenance and inspection.